[:en]
Was already few years ago we overheard about The India Juggling Convention (InJuCo) happening in the very special Goa Arambol beach.
This winter we decided to go there and have a go.
After spending 9 days with my parents traveling like the maharajas in Touristic spots of the northern India,
We landed in GOA airport the 17th of January. It took an extra 2h30 of local buses to finally reach our destination.
We first discover Arambol as a endless beach with many coco huts ranging from 5 to 15 dollars. The 5 dollars one being undoubtedly a shared accommodation with bedbugs and cockroaches we first gave a go to a more costly one.
Once the accommodation settled, we discover on the beach many restaurant offering western and indian cuisine and live music and performances. We also in matter of minutes bounce into a couple of friends from Dali, yes the world is small !
The next day the convention was starting. Hidden in the jungle in a place called "Twice in Nature", we met there quite some jugglers already practicing. The festival didn't seem to have quite started yet. Nobody at the entrance for the ticket booth, no program, not much but the bar that was there all the way.
But quickly some more familiar faces, juggler friends from Shanghai, another french friend met in Thailand several weeks earlier, and many new friends to make.
The festival is 7 days of workshops and 5 themed night show.
The first night was the open stage. We came back after a good shower and patiently sat to see who and what will be playing that night, As expected a lot of very talented artists came to display there talents. Acroyoga, traditional juggling, fire juggling and other eccentric performance between theater and juggling.
The following night hosted a cabaret show where the level of performance was even better than the open stage. We also had the pleasure to play our partner fire poi performance, we were more than happy to see how enthusiastic was the audience. As for me I was especially enthusiastic to see the other performers, juggling with a piece of paper, fire clubs on a giant unicycle, contact juggling with a broom, flair juggling (Cocktail bar style juggling), Clowning, …
Another night was the renegade show that consist in a game. Anyone can come to perform a skill, if the audience agrees it's good and no-one in the audience claim he or she can do better, then the performer get a glass of alcohol. But if someone claim so, he/she will call "Clash" and come on stage to clash the previous performance. The clash can be "counter clashed" and so on.
The rule is pretty simple, but I didn't expect the result of it to be that entertaining.
The first performance was a girl dancing on dubstep music. When she finished the dance and went for her glass after the audience applause. A french juggler in his fifties (Yves) screams clash and go on stage waiting for her music to play again. His dance was so funny and good, that audience didn't know who should deserved the drink. I think they both got one!
The night kept on going like this, each and every performance as incredible it could be, with juggling, balancing, hooping, playing poi while drinking a beer or hand standing while smoking a joint will be always clashed by more and more drunk enthusiast jugglers.
This night was followed by the Fire night in an other venue by the beach called "Oshoanic". As the Injuco counts many fire spinner and flow artist, that night had a great level and diversity of fire spinning and I really enjoyed watching it all.
Only black dot is the quality of the Kerosene in India that make the air unbreathable especially during the Jam session, But Yeah that s India my friend !
The last night was the gala show. It was at "Ash", a beautiful venue hidden in the trees. Until the last minute audience could't get in to keep the surprise. When finally the doors open, the audience discover a magic world, with so many things happening.
Apart from the main stage , back of us were 4 actors were playing some burlesque act on a balcony, a man with a shaman costume and a big stick was walking among us, next to the stage was a woman doing a live painting.
The performance started mixing dancing and juggling, some acts I never saw before like CirWheel, or dancing in an inflatable balloon. In the middle of the show they fake the generator exploded and the show was over, but within a minute 5 giant robots with LED come from behind us through the crowd to start the show again. This 3 dimensional performance really gave me goose bumps. Some said the show wasn't that special, that there was to much dance, for me it was unique and unexpected.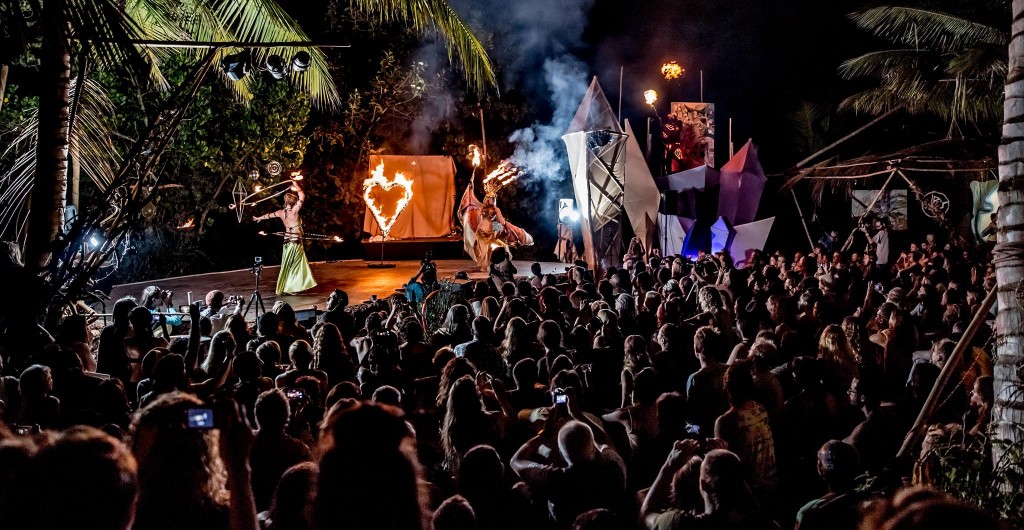 We came to InJuCo to broaden our knowledge of the Art of Performing and I wasn't disappointed.
The day time workshops and skill sharing were of first intress for us. Not only Poi and Staff, but also clowning, street performing tips, dancing, contact dancing, acroyoga and yoga.
Once the festival was over, most of the participants stayed in Arambol and kept bounding together.
And that's maybe what made Arambol so special to our Eyes. This Hippy, Artisty, Healthy atmosphere really gets into you.
More we stayed and more we realized how big is arambol, so many more than the beach to explore.
So many talented and special people are their, like if the whole world appointed in this place for those few month of winter to gather and share together, to learn from others, to experience without jugement.
Every day many workshops are happening in different venues like "Banyan tree" or "Temple of love" and "Temple of dance". Sharing for 2 to 6 dollars a session all kind of activities : Yoga, Reishi, Contact dance, Suffi dance, Ecstatic dance, Tantra, Juggling to just name a few.
Many restaurants and food stalls propose RAW vegan food and organic food for very reasonnable price. After 3 weeks in Arambol, our feeling is : "It's too short, I want more, I want to learn and share more, I want to improve more".
We arrived as strangers and we left a family of beautiful outgoing and generous people.
From November to March you are hospitable for all the Artist, Yogi and Freaks from around the world. That is why, Arambol, you will see us again.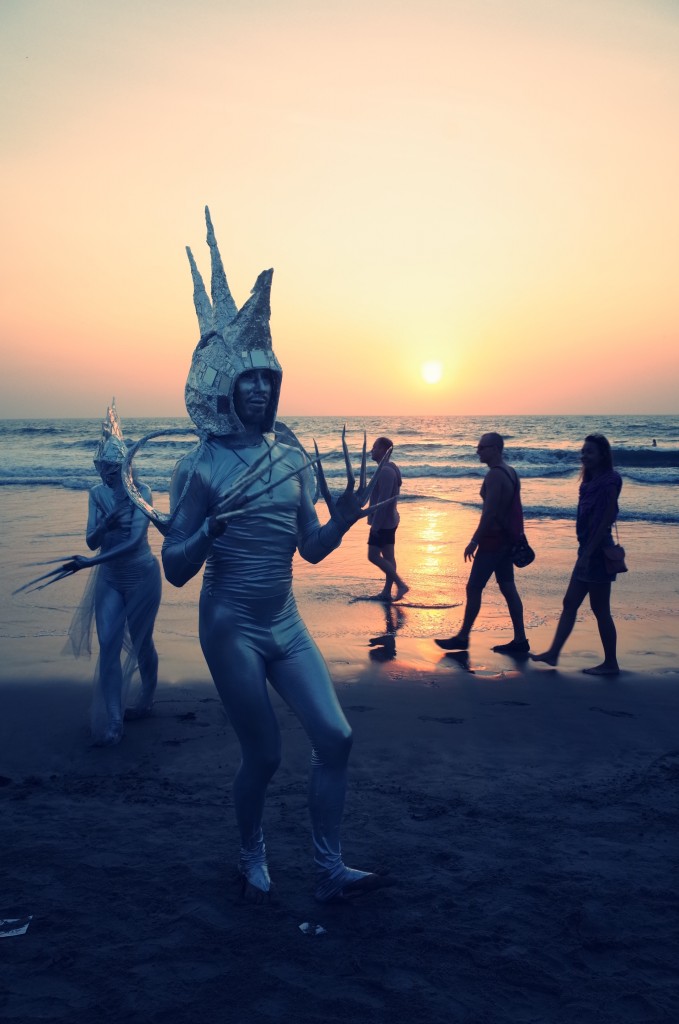 [:]